The Citizens' Platform Supporting Refugees is first and foremost a citizen's initiative.
As such it gets no state support and relies exclusively on volunteering as well as on citizens'generosity and solidarity, yours included !
You can support the Platform and help refugees through donation.
Your solidarity can help improve the living conditions of refugees on a daily basis and we are really grateful to you for your gesture.
Do you donate on behalf of a company, do you want to donate in your name or do you want to volunteer to help the platform operate ?
Then contact our team at : donate@bxlrefugees.be
Financial donation
You can also support us by donating money on the bank account BE04 5230 8077 7231 with the communication "soutien aux réfugiés"/ "support to refugees" – or mention a specific action you wish to support (sheltering, sleeping bags, Maximilien school, etc).
The owner of the bank account is the « ASBL Plateforme Citoyenne de Soutien aux Réfugiés » and the BIC Code is TRIOBEBB. Donations through this account are not eligible for tax deduction.
To claim a tax deduction, your donation (minimum 40 euros) should only be transfered through the account of Fondation Roi Baudouin (BE10 0000 0000 0404 BIC: BPOTBEB1), with the following structured communication : 128/3045/00004.
 Material donation
In order to keep our volunteers from spending too much time sorting donated items we only accept what our beneficiaries really need.
For the time being, we need the following items and pieces of clothing :
Hygiene products (paper handkerchief, spray deodorant, lip balm, razors, small size shaving foam, perfume – all sizes, wipes in small packs)
Small backpacks
Sleeping bags
Underwear and socks (only brand new) M/F, size S/M/L
Shoes (sneakers) M 40-46/F 36-40
Jeans slim and joggers M/F, size S/M/L
Hoodies M/F, size S/M/L
 T-shirts M/F, size S/M/L
Waterproof and dark coats M/F, size S/M/L
Raincoats and waterproof ponchos
Caps
Where and when can you take the items you wish to donate ?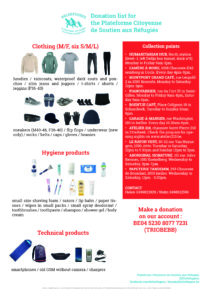 + NEW COLLECTION POINT STARTING FROM 17/06 :
Collectif KomChéTaMère @ SEE U
227 avenue de la Couronne, 1050 Ixelles.
Building H, 1st floor.
From Monday to Friday, 11am to 6pm.
Should your parcels be too big or cumbersome, feel free to contact us at donate@bxlrefugees.be