The Citizens' Platform Supporting Refugees is first and foremost a citizen's initiative.
As such, it gets no state structural support and relies mostly on volunteering as well as on citizens'generosity and solidarity, yours included !
You can support the Platform and help refugees through donation.
Your solidarity can help improve the living conditions of refugees on a daily basis and we are really grateful to you for your gesture.
Do you donate on behalf of a company, do you want to donate in your name or do you want to volunteer to help the platform operate ?
Then contact our team at : donate@bxlrefugees.be
Financial donations
You can also support us by donating money on the bank account BE04 5230 8077 7231 with the communication "soutien aux réfugiés"/ "support to refugees" – or mention a specific action you wish to support (sheltering, sleeping bags, Maximilien school, etc).
The owner of the bank account is the « ASBL Plateforme Citoyenne de Soutien aux Réfugiés » and the BIC Code is TRIOBEBB.
We are part of the associations approved to issue tax certificates. Any donation over 40€ will benefit from a tax certificate, sent at the beginning of the following year. In 2020, for any donation of €40 or more, you will benefit from a 60% tax reduction (€40 = actual donation of €16).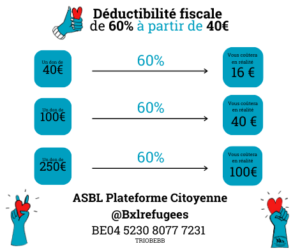 Material donations
In order to keep our volunteers from spending too much time sorting donated items we only accept what our beneficiaries really need.
Humanitarian hub
=> Click image to view full size.